"I'm on a fixed income. And until the Ride Transit program, taking buses meant spending a lot of money," says Nadine Chalifoux, local business owner, independent advocate working with EndPovertyEdmonton, and Ride Transit Program user. "It came down to options: 'Do I use my money towards food or for a bus pass? Is it cheaper to buy ten bus tickets? Will they be enough this month?'"
These are the kinds of impossible choices that some Edmontonians have to make every month. More than 100,000 people ride public transit daily in our city. "And it's not just for work," Chalifoux says. "Many young families, and working poor, or people on a fixed income, or people with strollers use transit to go to medical appointments, to go grocery shopping, or to access daycare."
But, if this system is inaccessible or unaffordable to those who depend on it, it creates pockets of social exclusion around the city. Chalifoux says an inaccessible and unaffordable transit system "breeds and heightens depression, anxiety, and negative emotions… If you can't access healthcare, childcare, educational systems, if you can't afford to take public transit to get to appointments or to work, then you're not going to be in a position to get yourself out of poverty."
ESSENTIAL FOR COMMUNITY
"Transit is generally recognized as one of those essential areas for connecting people in the community," says Carrie Hotton-MacDonald, director of business integration and workplace development at Edmonton Transit Service. The aim of EndPovertyEdmonton's GameChanger Accessible and Affordable Transit is to do just that - help Edmontonians stay connected with each other.
Which means that creating strategies to access and afford public transit is a key step on the way to eliminating poverty, and it's been a significant focus of EndPovertyEdmonton's work. Many individuals use public transit because they have no other choice. Buying a car or living closer to their workplace often isn't an option for many folks who struggle financially. So, when access to public transportation is impaired it makes the trip to the doctor or a job interview much more difficult, if not impossible.
Indeed, Hotton-MacDonald urges us to look at the social side of public transit. "We are a public service, not a business. It's a different model." And so, the Ride Transit program (which was Roadmap Action 18 of EndPovertyEdmonton's Roadmap to Guide Our Journey 2016-2021) was created to serve a wide diversity of people. Providing transit passes at a 60 per cent discount, this program is critical to people in need in our community. It allows them to use transit without having to make the choice between food or a bus pass. And other transit endeavours, like free transit for homeless folks accessing community supports (Roadmap Action #19), and for kids under 12 so long as they're accompanied by a paying adult (Roadmap Action 12) helps make transit that much more accessible for low-income individuals and families.
SEEING PROGRESS
Speaking to the success of the Ride Transit program, Hotton-MacDonald says, "We did a program evaluation of our low income transit pass. The study showed that [since the launch of the program], there is an increase in independence, better access to employment and healthcare, and more importantly, it has led to less social isolation and less stress for people participating in that program. From a transit perspective, helping people access transit services have that kind of impact and the effect is very moving."
Without an affordable and accessible public transit system, opportunity will pass by less-advantaged Edmontonians like a crowded bus on a cold, winter morning. "The ideal transit system is one that caters to the disabled, the impoverished and the working poor. One that makes it affordable and accessible to the working poor. One that's there when they need it for the disabled, regardless of whether it's peak hours or not," Chalifoux says.
GET ON THE BUS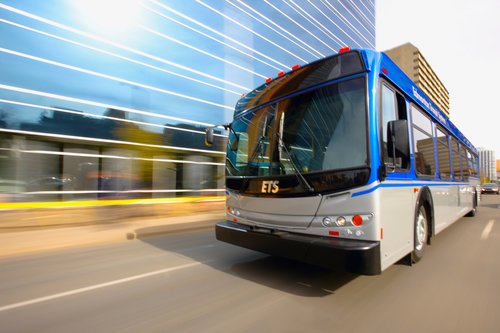 "This is the part of poverty that we like to hide, that we don't like to think about," says Chalifoux. "We need the whole community to band together to solve this problem. We need everyone to rally together and stand behind this issue."
Edmonton, as we strive to be champions for our neighbors, we cannot forget that they need a physical means of participating in our city. Let's work together to create a better Edmonton, one that everyone can access, afford, and connect with.